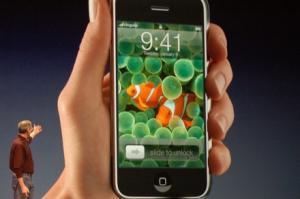 I am impressed. After months of rumor and speculation, Apple Computer has finally announced the iPhone. From the stream of pictures coming from sites like Engadget, the upcoming iPhone looks even more impressive than anything Apple fanboys have conjured up in Photoshop. The hardware features are outstanding - high resolution 3.5" tough screen, 2 megapixel camera, bluetooth, quad-band GSM, Wifi, and either 4 or 8 gigs of onboard memory.
Most impressive, however, are the software features that Apple is touting for the device. This device runs embedded OS X, complete with Safari and support for push-IMAP. Wow.
It will only be a short matter of time before someone pulls together some killer mashups. Imagine being able to throw in a bluebooth GPS receiver into your backpack and having a portable navigation unit based on Google's image and routing data. Within seconds you could pinpoint yourself on an up-to-date map (with satellite view, too), figure out using Google Local where the closest Chinese restaurant is, and place a phone order for lunch, while you leisurely find your way walking to the restaurant - all from the same device. Wow.
Of course Apple is going to wow the public with their announcement, but not even Apple will be immune to first iteration bugs and design flaws. How will the device provide feedback response, since there will not be (or will there?) tactile feedback? One of the things I hate the most about the 3rd generation iPod was the lack of feedback on the buttons - will the iPhone suffer from the same fault? Will the touch screen stand up to daily use and the obligatory encounters with keys and coins? Will the battery life be what Apple claims?
The iPhone won't be available for at least another 5 months, but the timing of today's announcement was as brilliant as the device itself. Anyone who is in the market to buy a high-end smart phone will do himself a favor by holding off for just a few more months. Non-Cingular customers up for contract renewal may think twice about sticking with their carrier. The iPhone is expensive, but with everything that Apple is touting, it may very well be worth it.